Behind the scenes at the Fairbanks electronics recycling depot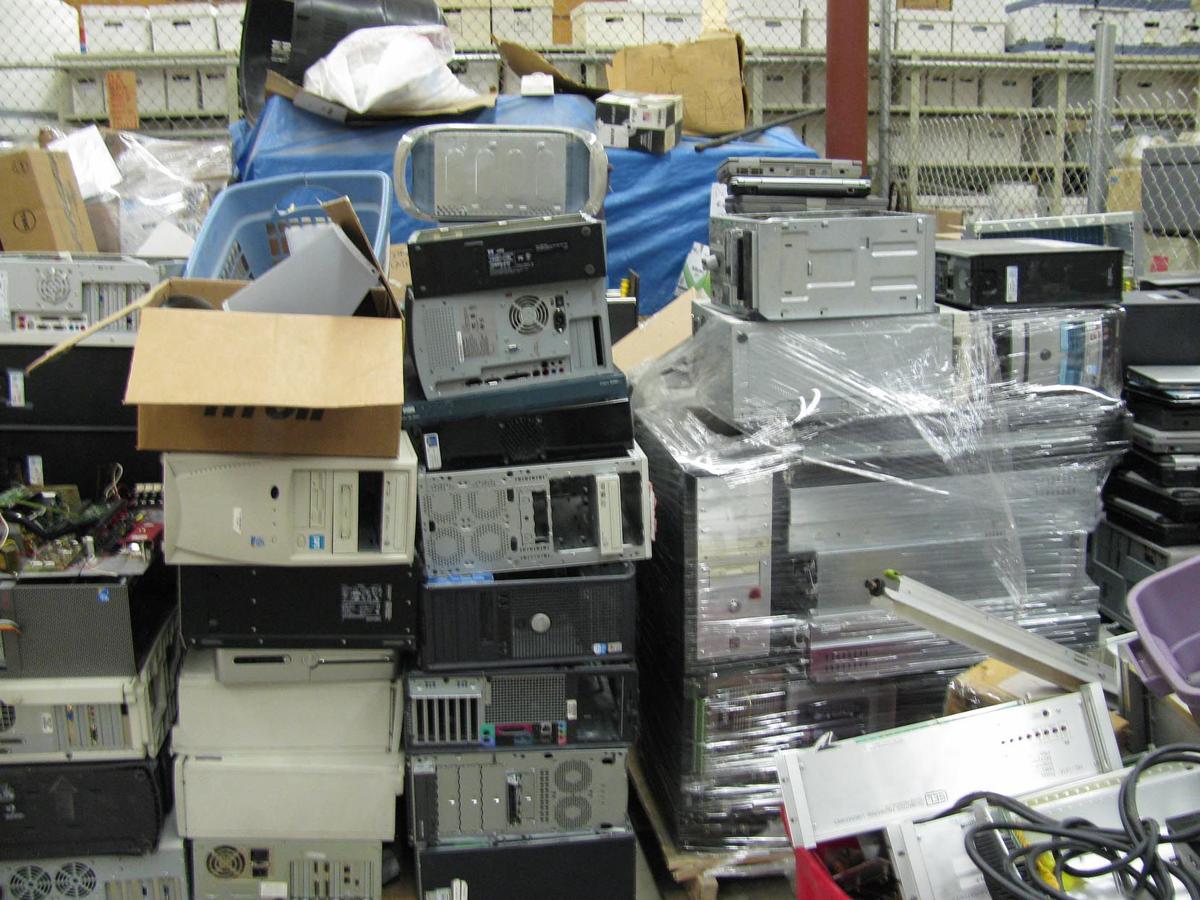 FAIRBANKS – Joyce Harris had been storing an old laptop and an 8mm video camera in a closet for about 10 years when she finally decided to part with them.
The items were long past their useful life. Harris couldn't remember if the video camera still worked.
"I will never miss it," she said. "I need that closet space. It was time for it to go."
Harris was among a steady stream of people who brought their aged or broken electronics, including old curling irons, flat screen televisions, printers, batteries and specialty gadgets that no one knew what they were, to Green Star of Interior Alaska's monthly recycling depot. The recycler has collected more than 700 tons of e-waste in the last 10 years.
Gary Pearson, owner of Alaska Television, buys used televisions from Green Star. If the TV is 6 years old or younger, Pearson will fix it and sell it or use it for parts.
"I don't like to see anything go to waste," he said.
Becca Brado, executive director of Green Star, listed some of the other items that find a new life.
Computers that are not too old are sometimes sold to another business, Computerwerks, to be refurbished. Old radio tubes and sound equipment are purchased by a collector in Fairbanks. Broken tablets and cellphones are donated to an instructor at the University of Alaska Fairbanks who uses them for his classes. The Science and Math Institute in Fairbanks also uses some of Green Star's e-waste.
"For educational purposes we'll donate, especially if it doesn't have any value for us," Brado said.
Some recycled electronics are sold on eBay. An Apple Lisa vintage computer sold for $950. An IFR, a communication device, sold for $800.
Someone once brought a World War II-era communication device to Green Star. Brado said it was sold to a historian in Europe.
Most of what Green Star sells on eBay are cellphones and vintage electronics. Brado said up to 20 percent of what Green Star collects is sold or donated for educational purposes. The rest is shipped out and eventually stripped to its basic parts.
Old televisions, vacuum cleaners and box fans, to name a few of the things, are sorted at the Green Star warehouse. Computers are stripped—the hard drives are removed or wiped clean— batteries are separated into buckets, and the stuff is piled onto a pallet and wrapped in plastic.
It gets trucked to Anchorage where it is sorted again and put on a barge to Seattle, Brado said. In Seattle, people pick through the rubble, looking for gold, silver, titanium and rare earth magnets. What remains is then crushed.
"It's kind of the end-of-life moment," said Jacques Mara, Green Star's electronics resale coordinator.
The materials are sold on the commodities market.
"The recycling process separates the electronics into their component parts – such as leaded glass, precious metals, non-precious metals, and plastics – and makes these materials available to manufacturers," Brado said. "When you see products on the shelf that say 'made from post-consumer recycled materials,' that means that that manufacturer has purchased recycled material."
Contact staff writer Amanda Bohman at 459-7587. Follow her on Twitter: @FDNMborough.
Amanda Bohman, abohman@newsminer.com