Fab Tool Spending Grew in November
The book-to-bill ratio of North American semiconductor equipment vendors moved closer to parity in November thanks to stronger-than-expected fab tool spending as the year moved toward a close.The three-month average of bookings among North American vendors grew to $1.55 billion, up 4% compared to October and up 25% compared to November 2015, according to the semiconductor equipment and materials vendor trade group, SEMI.
Meanwhile, the three-month average of billings slipped slightly in November to $1.61 billion, down 1% from October but up 25% compared with November 2015, SEMI (San Jose, Calif.) said.
"As 2016 comes towards a close, equipment spending is stronger than expected at the start of the year," said Dan Tracy, senior director, in a statement. "Spending has been driven by 3D NAND, leading-edge foundry, and advanced packaging investments, and these segments are key for the expected spending growth in 2017."
Based on the bookings and billings figures, North American vendors posted a book-to-bill ratio of 0.96 in November, up from 0.91 in October. The SEMI book-to-bill is a ratio of three-month moving averages of worldwide bookings and billings for North American-based semiconductor equipment manufacturers.
SEMI said earlier this week that sales of semiconductor manufacturing equipment are projected to grow to $43.4 billion in 2017, an increase of 9% from $39.7 billion in 2016.
The forecasted growth for 2017 would represent a second consecutive year of sales growth after a slight decline in sales in 2015. The $39.7 billion estimated total for 2016 represents an increase of 9% from 2015, SEMI (San Jose, Calif.) said.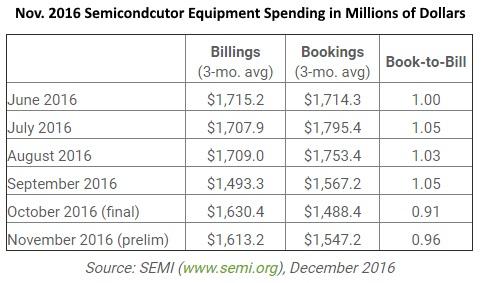 Sales of wafer processing equipment, by far the largest semiconductor equipment segment by dollar value, are projected to enjoy 8% growth in 2016, reaching $31.2 billion, according to the forecast. Assembly and packaging equipment sales are projected to rise nearly 15% to $2.9 billion, according to the forecast. Semiconductor test equipment sales are forecast to increase by 16% to $3.9 billion.
—Dylan McGrath covers the semiconductor industry for EE Times.