How Industry 4.0 & IIoT Impact Supply Chain Management: Hype vs. Reality
When people think of Industry 4.0 or the Industrial Internet of Things (IIoT), they may think of robots whizzing around factory floors assembling products at super human speed. While automation is the most visible aspect of Industry 4.0 and IIoT, these initiatives are also beginning to make a significant impact on supply chain management and provide real value by increasing global component visibility and improving demand management flexibility.
Changing customer needs is a fact of life in manufacturing. As demand increases or decreases, forecasts are changed, which creates a complex ripple effect across global supply chains. In addition, products often have multiple configurations along with varying regional considerations, and require thousands of different components. When factoring in all the possible variations, managing supply chains across global geographies has become so complex customers want to have real-time visibility throughout the supply chain to ensure that products will be manufactured on time. Although there is a tremendous amount of hype around Industry 4.0 and IIoT, here are real-world examples of how these new technologies are making a difference in global supply chain management.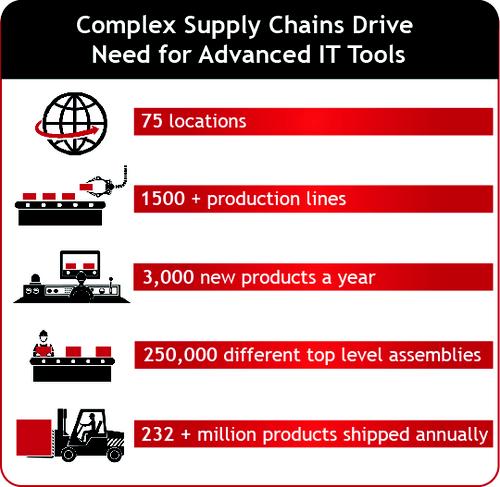 Real-time factory floor visualization & "line down" escalation
Industry 4.0 and IIoT use cloud technology, interoperability, and machine-to-machine communication to automate manufacturing, quality control, supply chain traceability and efficiency. Supply chain visibility is enhanced by artificial intelligence systems, advanced analytics, cloud-based systems and automated integration across the shop floor. This integration ties together each aspect of the manufacturing process, including computer-aided design (CAD) modeling and visualization tools, design for manufacturability (DFM) analysis software, computer-aided manufacturing (CAM), computer-integrated manufacturing (CIM) and shop floor data collection systems, eliminating human error and providing real-time visibility into production lines and supply chain dynamics. There are now real implementations in place for advanced supply chain management, applying IIoT and Industry 4.0 technology.
One such implementation is a global supply chain visualization tool Sanmina has developed for customers called Sanmina Operations Management System (SOMS), which converts data from the Manufacturing Execution System (MES) into a factory visualization superimposed on an actual map of the factory. Supply chain managers and operations executives can access these "virtual factory floors" anywhere from a browser to see the status of component inventory, production problems and delivery schedules.
Consider a typical electronics instrument manufacturing plant with 300,000 square feet of space spread across three buildings. Larger plants may have upwards of 25 surface mount technology (SMT) lines, instrument assembly lines and hundreds of different products. Each of these processes could potentially have eight to 12 different build and test stations. Each test station generates pass/fail results and provides an error code based on the test that failed. In complex electronics products, there may be hundreds or thousands of failure codes and multiple root causes that could generate a particular failure code. Data generated throughout the manufacturing and test process is used to measure and manage yield, throughput, work in progress (WIP) aging, labor efficiency and productivity against goals. However, in a large plant with thousands of employees operating 24 hours a day, seven days a week, the management of data can be complex.