Silicon Researcher Scans Horizon
Leti CEO speaks on FD-SOI and beyond

SAN JOSE, Calif. — It takes lots of time and effort to bring new semiconductor technology to market, said the chief executive of CEA-Leti. In an interview with EE Times, Marie Semeria shared her perspective from 20 years at the research institute in France where some 1,700 researchers have been awarded about 2,800 patents.
EE Times: Why has the fully depleted silicon-on-insulator (FD-SOI) technology your institute helped develop taken so long to gain acceptance?
Marie Semeria: Leti pioneered this tech more than 15 years ago. It can take ten years to demonstrate you can scale a technology and it's ready to transfer to industry with industrial partners who can demonstrate it can reach large scale use.
We started introducing FD-SOI at 40nm and the performance was good but it was not cost competitive with bulk CMOS. We tried again at 32nm but it was not the right time. More than two years ago at 28nm it was the first time we could demo a test chip with performance similar to bulk and energy consumption 40% lower than bulk–it was a complete revolution.
In order for it to be adopted, we need to enable the full ecosystem. The focus now is to develop all the different applications of FD-SOI with a full library of IP and EDA tools.
EET: What's the research horizon for FD-SOI?
Semeria: Before switching to FD-SOI it's key to know there is room to develop several generations of products with an attractive cost. Leti can prove the technology can be extended up to the 7nm node. We've demoed 14nm FD-SOI with STMicroelectronics, and we will show results up to 10nm based on real data and then you have to optimize the performance of the design,
Also, Leti is more and more engaged in the design platform with customers, to evaluate designs in FD-SOI with silicon libraries, project wafers and demo silicon. The design ecosystem is very important for the technology to succeed.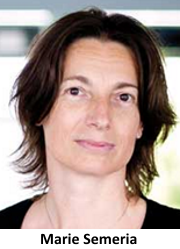 EET: What silicon technologies are you working on beyond FD-SOI?
Semeria: Nanowires represent the next generation semiconductor platform. We demonstrated at the VLSI Symposium a realization of quantum computing based on silicon nanowires compatible with a 300mm CMOS process. It's a step in the maturity of the technology, but there's a long way to go before we can demonstrate a full accelerator or computing unit – right now we have just one qubit.
EET: What's your view on the outlook for Moore's law?
Semeria: The end of Moore's law has been announced several times…but we still see progress in miniaturization and scaling. Even if Moore's law stops, computer engineering will still drive the technology and research.
Computer engineering will reinvent itself. We will see future neuromorphic and quantum applications. And I believe the key drivers now are functional integration and energy efficiency.
EET: What other promising semiconductor research do you have in your labs?
Semeria: Our Cool Cube technology for monolithic 3D integration is a very attractive way to integrate functions in a smart way. The benefits are huge when you have to design highly connected devices.
Qualcomm has been a sponsor of this work from the beginning and we also work with Applied Materials on it. This year for the first time we demoed full integration of operational PMOS and NMOS circuits with good electrical performance. It's a new step in its maturity. The next step will be to demo with an industrial partner performance at the next node with this integration scheme.
Leti also is doing more work in sensors. We showed MEMS made on 300mm wafers and continue to promote nano-scale MEMS including a 9-axis sensor combined with pressure and other sensors. We have shown nano-MEMS are competitive in performance and we have started to put this technology in products with customers.
EET: What's your view of the outlook for women in electrical engineering?
Semeria: I have not really studied the numbers but my impression is the number of women has not significantly increased in past years in electrical engineering. But when I attend conferences or participate in panels, I can see more young women interested in the application of semiconductor technology.
I'm optimistic regarding women in electrical engineering because the field is moving to…take more into account the usage…the application of the technology. The direction is from the application to the technology, not from the technology to the application. So as we go to more of a digital economy, I believe young women will become more involved.
EET: What legacy do you want to leave at Leti?
Semeria: My ambition for Leti is to develop a systems approach, to be more connected to the application. It won't be a bottoms-up approach.
We want to impact society. We are more and more involved in digital medicine, agriculture, taking into account usage. It's a new way to consider innovation.
— Rick Merritt, Silicon Valley Bureau Chief, EE Times