Micron Moves 3D NAND Into Mobile
TORONTO—Until recently 3D NAND has been only hitting the market within SSDs, but now Micron Technology said it's ready for mobile devices.
Last week the company introduced its first 3D NAND memory technology optimized for mobile devices and its first products based on the Universal Flash Storage (UFS) 2.1 standard. Micron's first foray into mobile 3D NAND is a 32GB offering aimed at the high and mid-end smartphone segments, which make up approximately 50% of worldwide smartphone volume, said Gino Skulick, VP of marketing in Micron's mobile business unit in a telephone interview with EE Times. The company is sampling the new 3D NAND with mobile customers and partners, and it will be widely available by the end of 2016.
Micron 3D NAND for mobile is the first to be built using floating gate technology, and stacks layers of data storage cells vertically to create storage capacity that is three times that of previous generation planar NAND technologies. Skulick said the smaller 3D NAND memory die measuring only 60.217mm, enabling a tiny footprint for the memory that can free up room for a larger battery to meet user expectations or allow for the creation of even smaller form factor devices. Micron's 3D NAND die is up to 30% smaller than planar NAND die of the same capacity, he said.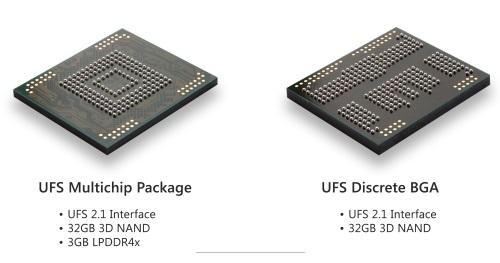 The company is also using low power LPDDR4X in its 3D NAND-based multichip packages (MCPs), said Skulick, which provides up to 20% more energy efficiency than standard LPDDR4 memory, as well as embracing the UFS 2.1 standard for the first time. "This is our first foray into it and we're getting really good results."
To date, eMMC has been the interface of choice in mobile, but it's not full duplex, he noted. The high speed UFS interface supports simultaneous read and write, which complements the performance of the 3D NAND. "This is all about the user experience."
Five years ago, no would have imagined that a smartphone would need embedded storage in the 256GB range, said Skulick, but now Micron envisions needing a lot more density in the long term, while balancing performance, active and standby power, and the overall footprint. For now, the company is starting out with a density that is going to hit a pretty good volume profile, he said, while augmented and virtual reality applications are where the speed and density will be consumed in the future. He likens the future requirements of mobile devices to the current high powered gaming PCs. "We try to anticipate what movement of data is going to be required in those types of applications."
In the here and now, power consumption is a significant selling point for 3D NAND, said Jim Handy, principal analyst with Objective Analysis in a telephone interview with EE Times. "The energy used to program 3D is lower than to program conventional NAND by a pretty substantial amount. The cellphone guys are going to sit up and pay attention. Battery life is a really key issue for them."
The increased density of 3D NAND is not just about how much flash you can fit into a device, Handy said. It also means that if you can use one chip instead of two for 32GB of storage, only one chip needs to be powered instead of two.
Handy has previously speculated that Samsung's 3D NAND process may not be as efficient or profitable as desired, but for Micron it looks like a different game. "It sounds like Micron feels like they have a serious shot of being profitable in this space." Putting 3D NAND in your own SSD with a controller can hide inefficiencies, he said. "It will be very telling who is the first company who ships 3D NAND that's not behind a controller."
In addition, third-party controller companies have announcedsupport for Micron's 3D NAND technology. That, coupled with sampling, indicates Micron has a roadmap to stable process. "It points to shipping chips rather than shipping SSDs."
—Gary Hilson is a general contributing editor with a focus on memory and flash technologies for EE Times.