Samsung Debuts 3D XPoint Killer 3D NAND variant stakes out high-end SSDs
SANTA CLARA, Calif. – Samsung lobbed a new variant of its 3D NAND flash into the gap Intel and Micron hope to fill with their emerging 3D XPoint memory. The news came one day after Micron showed at the Flash Memory Summit performance figures for its version of the XPoint solid-state drives (SSDs) under a new Quantx brand.
Samsung announced plans for what it called Z-NAND chips that will power SSDs with similar performance but lower costs and risk than the 3D XPoint drives. However, it was secretive about the details of the technology that will appear in products sometime next year.
By contrast, a Micron engineer leading its XPoint SSD program was surprisingly candid in an interview with EE Times. She described current prototypes using early XPoint chips and an FPGA-based controller for the SSDs expected to ship in about a year.
Samsung's Z-NAND will deliver 10x faster reads than multi-level cell flash and writes that are twice as fast, the company said. At the drive level, they will support both reads and writes at about 20 microseconds, suggesting some of write performance comes from an enhanced controller.
The Z-SSD throughput in I/O operations/second (IOPS) will be "comparable to the new Micron Quantx products," peaking at a desirably low level of about eight queue levels, said Tien Shiah, a Samsung product marketer who said results were based on working hardware in the lab.
The first drives will have a terabyte capacity. Like today's high-end SSDs they will draw a full 25W from a PCIe Gen 3 slot to deliver maximum IOPS.
Costs will be "a little bit more than standard triple-level cell flash shipping today, but it will be more cost effective than alternative memory technologies," said Shiah, in a nod to 3D Xpoint.
Engineers from Toshiba and SanDisk interviewed independently byEE Times said they believe Z-NAND is a clever implementation in a 3D NAND process of single-level flash cells.  Shiah said Z-NAND will have "SLC-like endurance."
Samsung does not appear to have a version of Z-NAND available for NVDIMM boards that plug into a memory bus. However Intel suggests it will not attack that opportunity with XPoint until sometime well after the first SSDs emerge next year.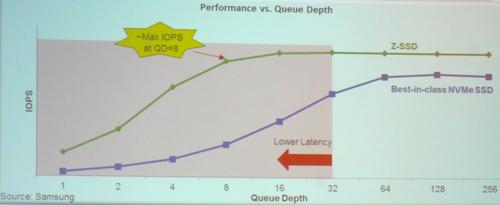 Samsung's move appears to be a somewhat hastily-prepared but savvy one. It positions an existing, relatively low cost technology against a newer riskier one still trying to yield.
One analyst expects Intel and Micron may take a loss on initial XPoint products until volumes rise. Intel may try to recoup the loss by selling XPoint as part of a platform with more expensive processors. "It's a gamble," said Jim Handy of market watcher Objective Analysis (Los Gatos, Calif.).
Samsung positioned Z-NAND as a sort of special case, a defensive move outside its main flash road map. Its next major product will be a 512-Gbit chip with 64-layers delivering 800 Mbits/second, said Jae Jeong, head of Samsung's memory division.
Samsung showed at its booth a wafer bearing the chips it said will ship later this year. It will use the chips to put a terabyte of storage into a novel fan-out package developed internally, he said. The chips will be used to double to 32 TBytes the density of Samsung's high-end SAS-based SSDs.
Next page: Micron gives peek at XPoint SSD