Wearables assembly solutions from Universal Instruments
Why Wearables?
Wearable technologies have gone mainstream, with fitness bands and smartwatches leading the way. With an expansive portfolio of products soon to follow, the Wearables market is expected to reach 300% of its current size within the next three years.
What are the Challenges?
Wearables are typically so small and thin that the interconnects for these products must be made without the use of connectors. Traditional production techniques for these devices — burdened with manual assembly — are far too slow and inefficient to meet the aggressive volume demands of this growing market.
Why Universal Instruments?
Universal offers fully automated high-volume solutions that will put you in a leadership position, poised to take on your next wearables product challenge. High-speed, high-accuracy placement coupled with highly parallel hot bar bonding delivers 4X the productivity of traditional solutions.
The introduction of wearable technologies such as smart watches, smart cameras, smart glasses, smart clothing, and gaming and entertainment, is rapidly opening a new world of technology and connectivity. In fact, wearables are already pushing into the mainstream, where they will improve our wellness, make us more comfortable, and make our lives easier.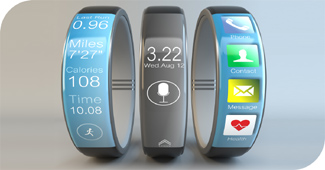 Many electronics manufacturers are struggling to implement efficient volume production processes to meet the aggressive demands of this growing market. Universal Instruments has established partnerships with multiple industry leaders, leveraging its exclusive tool set and experience to develop winning solutions for wearables manufacturing.
Fully automated, high-volume solution vs. traditional low-volume manual assembly
High-speed, high-accuracy placement
Advanced process experience enabling highly reliable fine-pitch die placement on flex circuits
Specialized tooling: flex circuit handling, under-board heating, heated nozzles
Highly parallel hot bar bonding: a single Universal cell outperforms 4 traditional cells